We start this week in Belfast, where members are gearing up for this weekend's Cost of Living protest, while also engaged in supporting a fellow member in taking on our old friends at Boyle Properties.

The Cost of Living protest takes place at 1pm this Saturday at City Hall in Belfast. Any members in the South who can make it up are encouraged to do so – Belfast members have regularly shown solidarity with actions in Dublin etc., including at last week's protest, so it would be great to see a similar response.

On the member defence front, the South & East Belfast branch are currently supporting a member who has had £470 of their deposit withheld by Boyle Properties without any justification. Worse still, when the member contacted the Tenancy Deposit Schemes to try and resolve the issue, they found that in fact tenancy had never been registered by Boyle – which is illegal.

As such, the branch has written to Boyle reminding them of their legal obligations and advising that there will be an escalation if they cannot either (a) prove the tenancy is registered with the relevant scheme or (b) return the full deposit of £825 as quickly as possible.

You can see the letter that was issued to Boyle as well as keeping up to date on how the case develops on Twitter HERE and on Instagram.
***
CATU Inchicore-Kilmainham, supported by many other branches, have been responding to this week's revelation that Dublin City Council are now intending to give part of the site at St. Michael's Estate in Inchicore over to private developers. That's 91 units that, instead of being secure homes, will be used by corporate landlords to make millions with no control over quality or cost. This private landlord will no doubt be charging enormous rents unaffordable to most, and flies in the face of what we have been promised.

The union's demand is therefore that the council drops their plan to sell off part of the development and that public land remains in public hands.
A protest has been called for Monday, October 3rd at City Hall in Dublin – while a petition has been developed and doorknocking has been taking place to spread the word. If you can make it along on Monday, please do – we want to be as noisy and impact as possible.
The petition, meanwhile, can be accessed HERE and it would be particularly helpful if you could share it with any friends, relatives etc. you may have in the local area.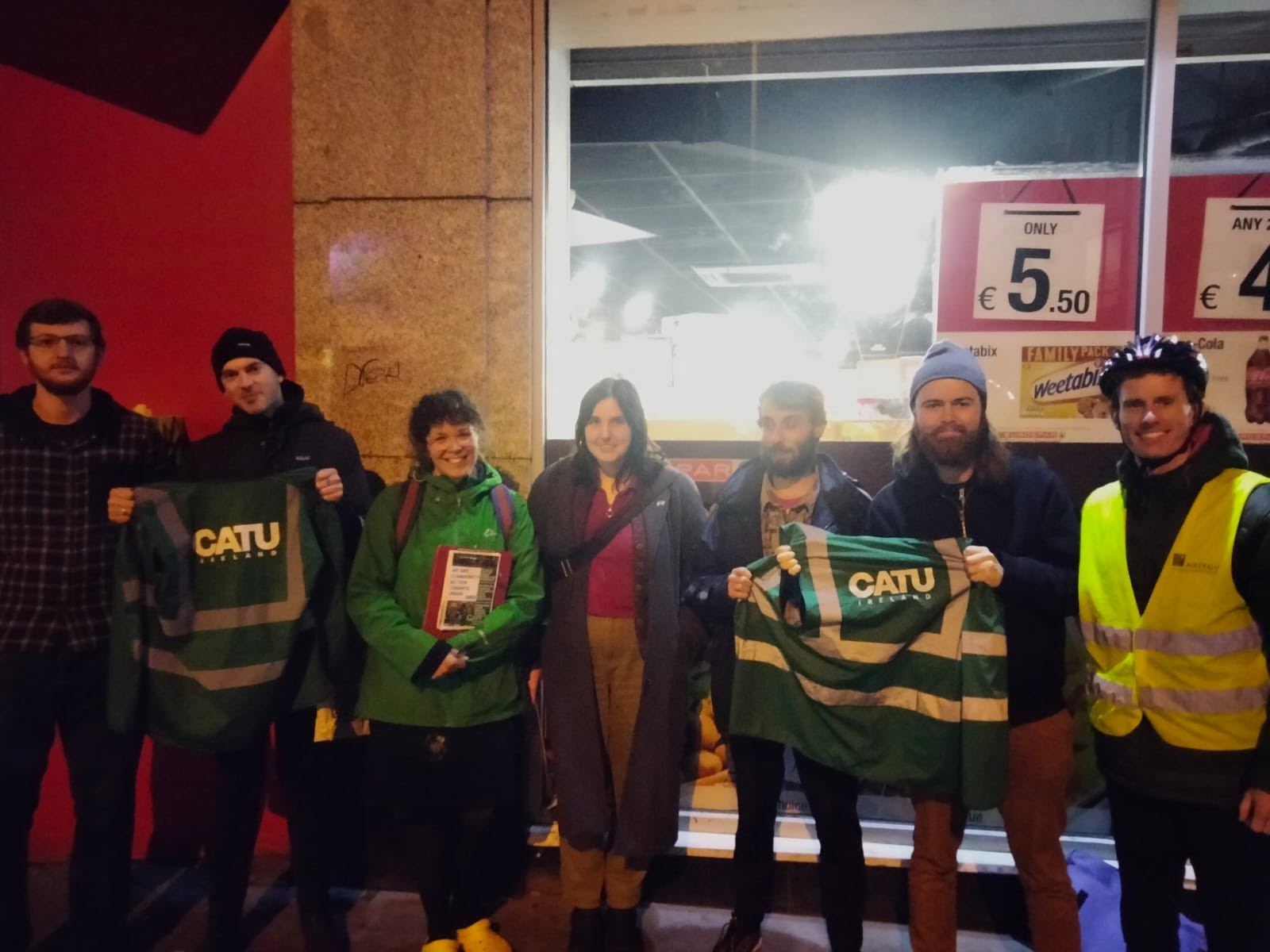 ***
CATU Ballymun-Finglas have been running stalls and doorknocking relentlessly all month and they're now in the final push before Tuesday's public meeting in the Axis in Ballymun. There's been an enormous response in the local area – so much so that we've had to do 3 print runs of the leaflets to meet demand! The theme of the meeting is 'Better for Ballymun' and will be an opportunity to identify the issues most important to the local community and develop plans of action around them.
***Now to news of 2 WINS!
On Monday, a member of CATU in Ranelagh faced an illegal forced eviction. His landlord has put this tenant on a bogus licensee agreement and is using excuses about fire safety he refused to provide evidence for to evict his tenants.
He then found workers hired by the landlord changing the locks – who backed off once the illegal nature of their actions were explained. CATU members mobilised to protect their member and make sure he secured access to his home.
Then, the new escalation happened.
Another worker hired by the landlord came in, refused to identify or leave. Tenant's possessions would've been under threat, had there not been for the union numbers in presence. After the long stand-off, the worker left, and the tenant was safe once again.
Our power shows when we come together – and when we come together, we win. Well done to the member, the Rathmines-Ranelagh branch and everyone who supported them in this action.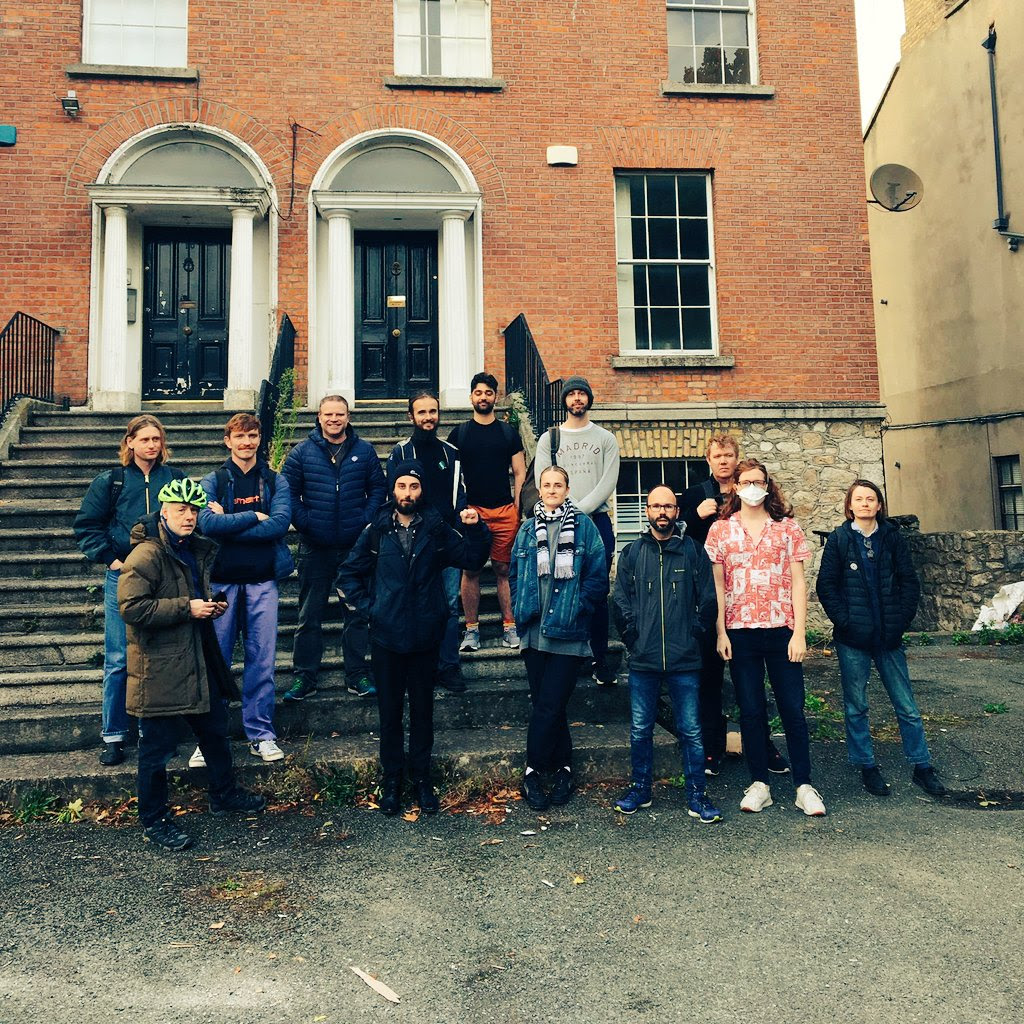 Also this week, a member in Dublin 2, whose landlord had previously insisted she be out within 10 days and threatened to withhold her deposit has had her deposit returned in full. CATU had successfully negotiated her a month to find a new place, which she's in now, and successfully negotiated return of the deposit, which was confirmed on Wednesday. The landlord clearly expected to walk all over her but she was very strong and knew her rights and withheld keys until he returned the deposit. He says he'll "never rent again cause of people like you". Boo-hoo!
***
At last Saturday's Cost of Living protest in Dublin, tens and thousands of people showed up to voice their anger at the government's ineptitude in dealing with rising costs, inadequate public services, the continued refusal to deal with housing among many other issues. CATU were superbly represented on the day with members and branches from all across the island in attendance.
***
CATU Cabra held a first protest as part of an ongoing member defence case last week, and assembled outside a landlord's house in Ballyfermot for a silent demo.
The background here is that a new member to Cabra recently moved from Ballyfermot where they were pressured out by the landlord, and had their deposit and advance-paid rent unfairly withheld. This landlord has ignored all efforts the union have made to issue demands so far and soon we may escalate by going public with the details of her shady dealings.
There were shows of support and solidarity from several neighbours too. And many thanks to those from other Dublin branches who joined last week!
***
CATU Dún Laoghaire will be doorknocking in Blackrock on Tuesday 4th and 11th October in support of a member who is at risk of eviction. They will be meeting in front of the Frascati Centre at 18:30. There will also be an event on the 14th to protect the member from a possible eviction. More details will follow on the socials, or email catudunlaoghaire@gmail.com for more info.
***
Well done to our Landlord Research, NATO/oral history project groups and CATU Cork who came together for a 2-day training event last weekend. The first day focused on the tools we can utilise to gather information on landlords and their assets, while day two looked at the ongoing oral history research project, its aims and how to contribute to it.
***
That's all for now – all contributions and feedback are welcome as always <3
In solidarity,
Naoise FaogáinNational Administrator
Community Action Tenants Union – CATU Ireland