CATU News – Week 41, 2022
With spooky season well and truly underway, what could be spookier for those in power than confident, strongly organised communities?

The National Campaigns group met on Wednesday evening to plan for a Co-Living House of Horrors at the end of the month – as well as recapping on some recent local successes in Ballymun and Inchicore.
.
Members are encouraged to take part in the National Campaigns group – especially those outside Dublin so that our efforts can be as representative of the wider membership as possible. Contact admin@catuireland.org to find out more.
***
CATU Rathmines-Ranelagh members and supporters were out in force on Monday afternoon in solidarity with fellow member Michael, who was threatened with an overnight illegal eviction by Paradise Real Estate. This is the 2nd time in as many weeks that this agency has sought to illegally evict one of our members. The message then, now and always is clear: they won't get away with it, we'll always be here to fight back.
***
As we announced last week, CATU are hiring – this time for a Regional Organiser for Ulster. There have been excellent foundations laid in Belfast by members there but in order to grow the union's strength and capacity – from Donegal to Downpatrick, Portrush to Portadown – we need a dedicated Organiser in place.
If you're a member based in Ulster (or elsewhere and willing to relocate), and this role sounds like something you'd be interested in, we very much want to hear from you. Our existing Organisers – Nora in Munster and Helen and Seamus in Leinster – are happy to talk you through what the role entails – and the successful applicant will receive comprehensive training.
Further details, including the job spec and application form, can be found HERE.
The role is part-time at 80 hours a month, with a rate of pay of £13/€15 per hour, and the deadline to get your application in is Friday, October 21st. Completed application forms and CVs should be sent to jobs@catuireland.org
Please consider throwing your name in the hat, or sharing it among your networks.
***
A CATU Dún Laoghaire member and their family are facing eviction from their family home of 50+ years this Friday. We are asking all members to join us on Friday (October 14th) at 12pm at Eagle Hill, Blackrock to stand against the eviction. The member's family would be made homeless if this eviction goes ahead.
More details:
1) A family of four living in Eagle Hill, Blackrock are facing being evicted from their home on October 14th. The house has been rented by the tenants' family since 1958. Most of the family have lived there all their lives and they have two children in local schools who should not be forced to move. They have been unable to find alternative accommodation so would be made homeless if this eviction goes ahead.
2) There are various options available to resolve the situation including selling the house with the family in situ, so they would become tenants of the new owner. The house could also be sold to the council so the family could become council tenants. The tenants have even offered to pay higher rent if they are allowed to stay.
If you can make it along on Friday, please do!
***
CATU's recently established Latin American caucus is continuing to build and has been collecting the stories and insights of its members on Instagram. Formed by Latin American people with a focus on addressing specific issues that affect their housing experience as migrants, the caucus is open to all Latin American CATU members. To find out more, you can send them a message on Instagram or by emailing catulatam@gmail.com
***
A member of CATU Mountjoy-Dorset is facing a possible eviction next week. While the branch is working on a plan to support them, it may be necessary to stop the eviction if the landlord won't negotiate. The branch has developed an Anti-Eviction list for the Dublin 1 area, where you can be alerted to an impending or ongoing eviction threat. If you'd like to sign up to these alerts, please click HERE.
***
In solidarity with the Union of Students in Ireland, CATU are supporting this week's student walkout. At 11:11am on Thursday, students from third-level institutions across Ireland will walk out of their lectures to show they aren't willing to tolerate any further inaction when it comes to housing provision and escalating day-to-day costs.
CATU's demands are aligned with those of the USI: We say there needs to be an immediate ban on evictions, affordable quality housing for all and public housing built on public lands.
The horror stories we hear about in relation to students commuting for hours every day, or paying through the nose to live in squalor, are similar to those faced by us all in that it's not inevitable, it doesn't have to be this way and there are solutions if the political will existed.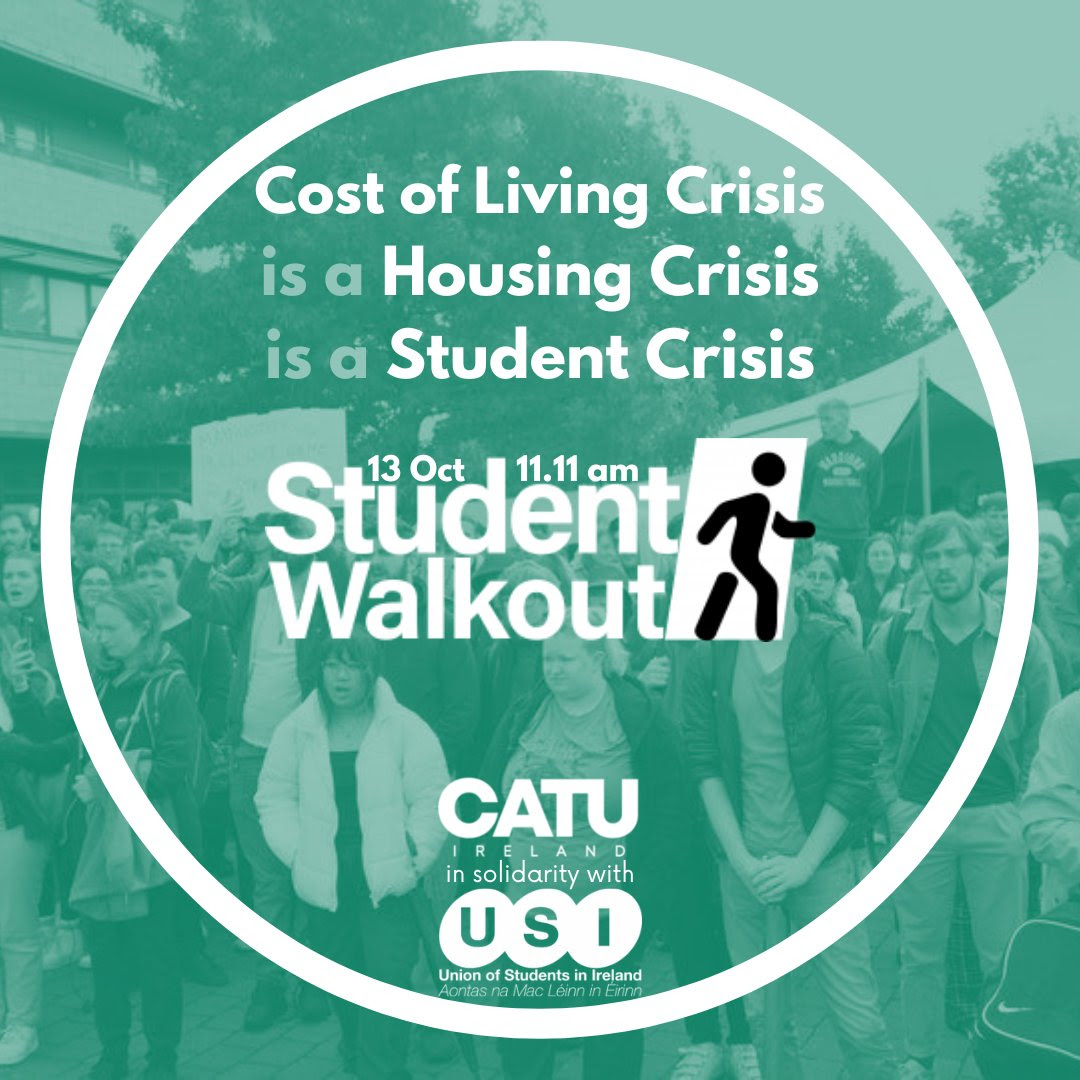 ***
Members of CATU Cork were recently invited to attend Union Week at UCC, along with trade unions and the students' union, where they had the opportunity to chat to students about their living conditions and the problems they face. They will be back on Thursday this week for another stall.
***
CATU Dublin 3 have put together a clever and very useful community resource: a bosca leabhar!
The bosca leabhar (Irish:'book box') was put together out of a love of sharing, and a love of books. The idea is that you take a book, read it, give it to a friend and maybe leave behind a book of your own for someone else to read.
This particular bosca is on wheels because the branch will be using it to tell the story of the housing crisis across Dublin 3. The bosca will be living in Marino Park for about a week. After that it'll move to a new location, and so on. Follow the branch on Instagram to keep track of where it's been and where it's going.
***
Lastly, a reminder that our website is currently undergoing a makeover – if you have any suggested changes, please send them my way!
***
That's all for now – all contributions and feedback are welcome as always <3
In solidarity, 

Naoise Faogáin
National Administrator